priScanner Express
priScanner is a powerful, lightweight, easy to use scanning solution. It offers intuitive way for scanning images and documents.
With priScanner you may quickly preview scanned documents, select area of interest and scan it with higher resolution. Scanned area may be rescaled, rotated and copied to clipboard, saved as images or printed.
priScanner allows you to rotate scanned document right in the scan window.
Large preview area, in place scanning, single click copy to printer functionality.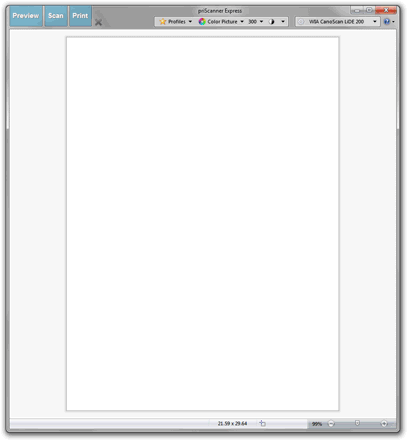 priScanner scans right into preview window, no need to open image editor or any other application in order to scan or preview image
Select any area and double click in order to rescan it with higher resolution. No need to rescan whole image
Copy to your printer in just one mouse click
You may just drop business card to the scanner without alignment, scan with priPrinter and rotate right in the main window of priScanner application.
System Requirements
Windows 7, Vista™, XP, 2000, Server 2003, 2008
WIA enabled flatbed scanner